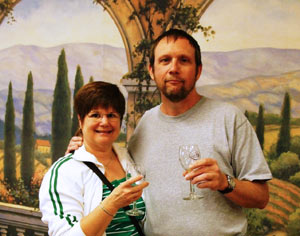 We are getting a slow start to our Ohio winery interviews, however with the winter being such a cold one we needed a diversion and a warm up. We found it in a flight to Daytona Beach Florida for a week. We left the Saturday before the big ice and snow storm hit Northwest Ohio. It is so hard to believe that a change in atmosphere, attitude, and environment can happen with just a 2 ½ hour flight! This is how long it took to fly into Orlando/Sanford International Airport.
The sunshine almost blinded me. But I gladly slid into my sandals before we even drove our rental car away from the airport. I immediately let the sunshine soak into my arms. We were here to visit relatives and see a bit of the sites. What an opportunity we were to discover at a small, store- front, urban winery.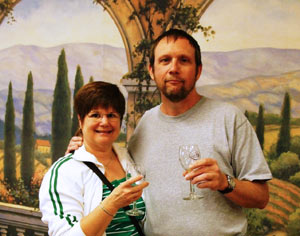 The FREE TASTINGS sign caught my eye as we drove down South Atlantic Ave. Florida Wines of Daytona touted "The Best tropical fruit, citrus and berry wines Florida has to offer!" The owner was pouring on this gorgeous, warm day. Rocky Meredith was welcoming as he apologized for being so low on inventory. As we gazed over the wine list we were amazed at the different varieties. Kiwi, Mango, Pear, Coconut-Orange, and Guava were just a few that made us think about what great food pairings were could try. "How do you make wine in these combinations?" we wondered.
"You can make wine from anything organic that grows," explained Rocky. "Including any type of fruit or vegetable that produces a natural sugar". Vegetable? He then pointed out the 40 Karats on the tasting list, a semi dry, buttery white made from carrots. The flavor was similar to a Chardonnay. We then tasted Hot Sun, a smooth, dry, white from tomatoes with a nice hint of jalapeno pepper. Who needs Beer? This would be great with pizza, beef roast or a burger. Our wine club members had to try these. How could be get these home on the plane?
Rocky again apologized. He was out of stock on some of our favorites but offered to ship when they bottled next week. He said Florida wines can be mailed to Ohio so future purchases would be easy. We ended up purchasing a bottle of the 40 Karats and two single sized servings of the Mango Mama in foil pouches. Perfect for our checked bag.
We will have to send for some of the wines because these usual flavors would be a great addition to any party. Plus Rocky's imagination seemed to be working on his next flavor. We will have to watch what he comes up with next.
Check them out at ormondbeachwinery.com .